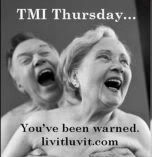 Click the picture for more TMI.
We're making changes to the way we eat here at Golden Manor. I don't mean anything radical. No colonics or cleanses involving cayenne pepper, but a switch to a diet leaning heavily on fiber from produce, oatmeal and all kinds of whole grain things hidden in the boxes of regular stuff. Deception is key to parenting. It's in all the books, look it up.
This additional fiber has caused the expected changes. I'm talking both kinds - gases and solids. Can I tell you? We haven't talked about poop this much since the kids were babies. Everyone is filing reports of some kind or other.
There are the editorial comments from other family members:
"Who did
that
? It smells like someone needs to go poo. In the bathroom, I mean."
"If you keep that up, you won't have a girlfriend to worry about."
"What died?"
"How can such a cute butt make such an awful stench?"
"I hear that after a guy drops a girl off from a date, he farts all the way home. Is that true?"
We protect each other with helpful suggestions:
"I wouldnt' go in there right now, if I were you."
"You might want to wait a bit. I was just in there
reading
."
We have our scientists, too.
"You've got to see this! It's curling around the bowl!"
The newbie fiber eaters issue their own findings:
"I think I've crapped like four times today."
"Now I see what that woman on
You Are What You Eat
was talking about. I'm taking healthy dumps now."
"If this keeps up, I'm going to need some Desitin. It feels like I have diaper rash."
"That fart was unbearable. And it was my own."
Those who've been on this changed diet a little longer offer some valuable insight:
"When you're eating enough fiber, your poos don't break. I now know what the inside of my intestine look like."
"You'll stop being so gassy sooner or later. Let's hope it's sooner."
Even now, the more seasoned of the healthy eaters will let fly with something that pretty much grabs you by the lapels and shakes you hard. "Oh, man. Sorry about that," he'll say as I adjust my pillows, ready to go to sleep.
"About what?" I'll ask just as the shifting of the blankets allows the stealth poot to escape and commit assault on my olfactory nerves. Like someone taking a physical blow, my head bangs back on the pillow.
"That."