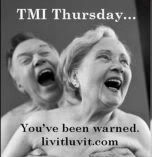 Christine of Red Hat Pottery
reminded me in yesterday's comments that today is
TMI Thursday
. Have mercy. Is there anything new and just a bit too much that I can
overshare
? I took it to the family. So? Anything?
I asked
MathMan
, "
What should I write about for TMI Thursday?"
He took a bite of his sandwich and chewed thoughtfully. I didn't give him time to respond because I was a little hopped up on adrenaline from hunting the wild groceries earlier in the afternoon.
"I could write about that buttplug, I suppose."
He swallowed audibly. "
What buttplug
?"
"
Did I say buttplug?"
Damn, I forgot that was supposed to be a surprise.

Thankfully, his phone rang and by the time he was finished with that call, he's forgotten all about it.
Next I asked Sophia.
"What should I write about for TMI Thursday?"
"What's TMI Thursday?"
"Too Much Information. "
She's smart that one. "
Well, duh, TMI. But what's TMI Thursday?"
"I put up a blog post containing too much information about something personal."
I explained to her royal highness.
"You should write about how I'm your favorite. Of course, there's never

too much

information about that...."
She may be smart, but she's a one-trick pony. Think I'm kidding? Here are but a few of her more recent lines.
"If I could date me, I would."
"I'm the princess, Chloe is a zitty ogre and Nathan is an ugly oaf. Either that or a hunchback...."
"You have one child whom you love and two others...."
"You should have a vote on your blog. See which kid is everybody's favorite."
I declined by suggesting that she might be disappointed with the results. She merely laughed. I keep her around because she knows just how much wine to pour in the glass. Otherwise, we'd just ship her off to the snakepit already.
The Pussies for Peace were no help at all. They were busy holding yet another tiresome strategic planning session. It seems they are unsatisfied with the litter we're supplying. I believe I heard one of them mention doing an
RFP
. I thought about calling Chloe, but quickly realized that I couldn't possibly bother her with this question. I hate how it sounds over the phone when she rolls her eyes. She doesn't say so, but I suspect she thinks this entire blog is TMI. I just imagine her asking "
Why should Thursday be any different
?" Skip it. There's one more person I can ask....
So I finally approached Nate with my request.
The consummate teen, he answered me visually. He'd just gotten his baseball season buzz cut and was modeling how he'll look some day when there's more hair on his back than on his head. He's quite cold-blooded about the fact that by his late twenties, he'll be practically bald. Like my brother, Nate plans to just shave his head and be done with it. He's sure he can be a bald sexy beast. As for the rest of his body, well, I'm his mother. I don't think it's appropriate to talk to him about manscaping downtown....