I give you the last TMI Post.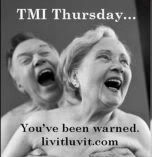 Click the photo for more TMI hilarity.
I was hausfrauing happily away in the kitchen when I realized I'd waited almost too long to head upstairs for my morning constitutional. I was at
that point
. So I run, literally, knocking over a kid, to the bathroom, remembering at the last second to dash by my nightstand to collect my book and cellphone. It might be awhile, you know? I'd hate to be in there too long with no entertainment.
Anyway, I sit just in time and decide to check Facebook on my phone because I don't want to start a new chapter in the book I'm reading. (I sensed I wouldn't be as long as I'd originally thought. The fiber I've been eating is doing its job nicely, after all.)
I hear a meow from above and realize that the kitten has had the misfortune to be trapped in the bathroom with me during my "break."
Oh well, too bad for her. I'm not getting up.
The kitten, unhappy with this arrangement meows again (as a warning I now realize) and leaps from the windowsill onto my back. She still has those very stabby kitten claws.
Thankfully, when I dropped my cellphone, it merely bounced off my thigh and clattered to the floor. I dislodged the kitten's claws from my back and remarked that it was only because I loved her so much that I wouldn't punish her in a most vile way.
"You would be far superior to the cheap one-ply on the roll," I purred at her before placing her gently on the floor.
Thanks to
LiLu
for putting together TMI Thursdays. It's been a lot of fun.