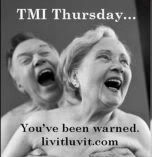 Click the photo for more TMI fun. Do it. Now! No, wait. Do it AFTER you read this post.
Some people need work to help them define themselves and to feel a sense of fulfillment. Not me.
I clip coupons. Like it's a contest.
But I'm not just your average coupon clipper. Oh ho ho! I very carefully clip down to the edge of the printing.
All the way around.
In fact, those coupons look so good when I'm done with them I bet the supermarket checker whispers to the bagger after I leave, "That woman had the most neatly trimmed coupons I've ever seen!"
I do laundry. Like it's sex.
But not just your average
get everything all good and wet it in the washer, add commercial detergent and softener, enjoy the vibrations, listen for the winding down sound, shove it in the dryer until the buzzer goes off, take it out, fold it in the living room in front of the t.v., pile it on the sofa for three days until I can't take my suggestion that "people" put away their own laundry being ignored another moment
laundry.
People, please.
No, I launder my clothes in whatever powder is cheapest, scrape in a few shavings of Fels Naptha soap and add my homemade fabric softener. Oh, I didn't tell you? I'm going right for Martha's market share. Anyway....it's easy and inexpensive. (Detect a theme?) 3 cups white vinegar, 6 cups water and the piece de resistance! some really inexpensive hair conditioner. Do you want your clothes to smell like ocean breezes? strawberries? How about a nice cucumber kiwi? You get to choose by selecting whatever conditioner thrills you. Of course, no matter how delightfully scented the conditioner is, make sure it goes with the piquant scent of vinegar because, well, it's vinegar and there's precious little you can do about that smell. When your family has the temerity to wonder aloud why they smell vinegar, tell them that you're dying Easter eggs. Or douching. Whatever works in your household.
But that's not all!
I've also learned to cut our electric bill significantly by not running the clothes dryer full throttle all the damn time. The resulting savings in one month of not using the dryer was $54 and some change. So when a donor paid me via the purchase of a new dryer in exchange for some
sex
work, I decided to make it a win/win. I wash the clothes using my fabulous homemade softener, pull them from the washer and hang them until they are nearly dry. Then I pop them into the dryer so they tumble for a few minutes and get all nice and soft.
Bluebirds drape garland around my head and mice sing sweetly from the corners, too.
Or did I dream that?
I iron sheets. Like my life depends on it.
Yes, I really do. Call me crazy (I know you don't need my permission), but it's one of the little luxuries in life that I can still maintain and it doesn't cost me anything except the little bit of electricity and water and time spent in front of some old movie which is hardly a burden.
And what exactly, you're wondering (because I can see you with your pursed lips and furrowed brow), makes any of this TMI?
I do it all naked.
Can't take your eyes off that wallpaper, can you?